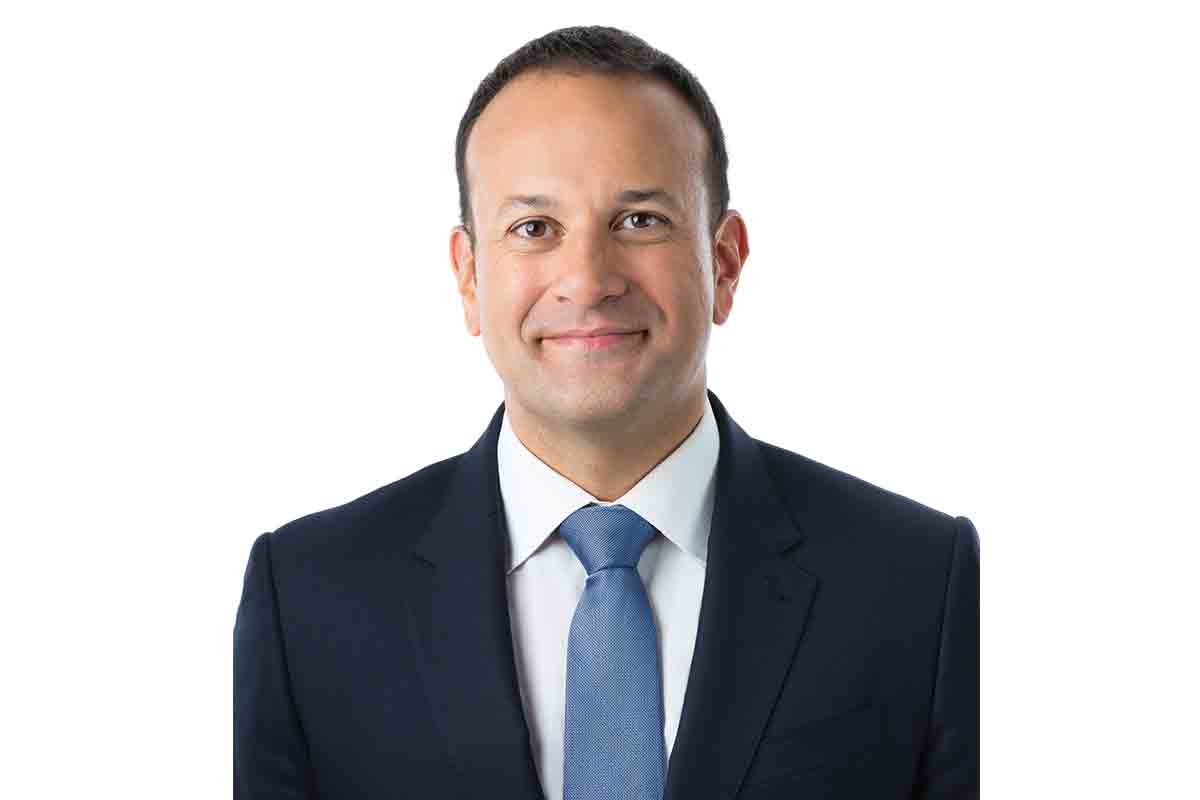 09 Feb

A resilient, modern, determined country that will bounce back quickly
Leo Varadkar, Tánaiste and Minister for Enterprise, Trade and Employment, reveals measures in place for Ireland to attract and support global and domestic talent
Ireland's economy is one of the few that is projected to have produced positive growth in 2020. That is estimated by the Economic and Social Research Institute to have reached 3.4 percent, with a projection of 4.9 percent this year, despite the considerable erosion to jobs provoked by lockdowns. Could you begin by giving us a brief overview of Ireland's export and investment success story, and the key elements that can help explain why Ireland was better protected than others in the avoidance of an economic contraction?
As is often the case when it comes to the economy, it does depend on how you measure things. We don't have the final figures yet, but it does look like we had economic growth in 2020 and we anticipate having gross domestic product (GDP) growth this year as well, depending on what happens with the virus. That's largely down to the strength of our export sector and our multinational sector, which includes medical devices, the pharmaceutical sector and the digital companies that have all done very well. These companies are seeing growth, higher revenues and increasing market share even during the pandemic. We have a fairly resilient export sector, including our food industry that is quite important considering that Ireland feeds 10 times as many people as we have living here.
Yet if you measure our economic performance by employment and the real experience of real people across our society, it's been extremely difficult. We had close to full employment in 2019, when really there was a job for everyone who wanted one, in almost all parts of the country. We're now in a situation where nearly 20 percent of the population is either on welfare payments from the government or some form of wage subsidy. Labor-intensive sectors have been hit very hard, such as tourism, hospitality, travel, entertainment and, to a certain extent as well, retail and construction. The experience of people is not as good as our GDP figures might suggest, unfortunately. But, it is a good thing that we have that resilience, because the strength of those big companies and those exporters means that the tax revenues are still coming in. So our total income tax take was only down 1 percent last year and our corporate tax take was up, so we're at least able to finance the kind of social and health spending that we need at the moment.
What kind of support mechanisms and targeted measures have you launched to help businesses keep afloat and have you been able to measure the effectiveness of these yet?
For businesses, the main thing really has been the wage subsidy, to keep people on the payroll. We provided a weekly grant for businesses that have been forced to close by government order, to help them with their fixed costs or non-payroll costs. We also undertook a whole series of other financial actions, such as not having to pay commercial rents to the local council, reductions in VAT, as well as a whole set of low-cost loans. The take up of the loans has been relatively small so far, but they are there for companies that need it.
We've seen relatively few insolvencies although there have been some, but the real test is not now, the test is going to be down the line when we reopen the economy and start withdrawing those temporary measures.
2020 was characterized by uncertainty, both on the COVID-19 front but also, of course, in terms of Brexit. However, the deal achieved on Christmas Eve injected much-needed certainty into the future relations between the U.K. and the EU, with Ireland being one of the cornerstones to the deal. Is Brexit good or bad for Ireland?
Brexit isn't good for Ireland. In my view, it isn't good for Britain either and isn't good for Europe, but it has happened, and now we have to deal with the consequences of it. While there are definitely risks for Ireland, particularly when it comes to our exporters. Britain is our export market, it's being displaced and there are lots of frictions there. When it comes to trade, checks and paperwork that didn't have to be done before now have to be done, and that's all costs and delays for no benefits. That's the kind of downside.
There are opportunities too. The strongest opportunities we see are for further foreign direct investment to come in Ireland, from American, British, Chinese, Indian, Japanese companies that want to have a base in Europe. Most people want to be based in the eurozone or have a presence in the eurozone, in the Europe, the Middle East and Africa region, and Ireland has a really strong proposition in that regard. Our place in the world is in the eurozone at the heart of the European Union (EU). There is an absolutely overwhelming support among the Irish public for that.
Ireland is part of two common labor markets. On the one hand, we are part of the single European market, which means that if you establish in Ireland you could hire from all over the EU. On the other hand, we are also part of the U.K.-Ireland labor market, which we call the Common Travel Area, which means that you can hire from Britain as well. That's unique, we still have that old single market, if you like, with freedom of movement for British people, which no longer applies in the rest of the EU. I think that is a big advantage going into the future and obviously there's an advantage around being English speaking, which is important, particularly for American firms, but for other firms as well because it is the language of the world.
The Irish Government allocated an estimated €870 million to research and development (R&D) activities last year in an effort to make Ireland a "global innovation leader." Your department was responsible for half of this spending, through programs such as the Disruptive Technologies Innovation Fund. But you have also spearheaded projects in areas such as climate change, food and health resources. How is Ireland working to catch up with the EU average in this area?
We do need to catch up and we are catching up, with an 8-percent increase last year when other countries would have been pairing back some of their budgets. A lot of that was done through my department, a lot of that done through a new department that we've set up, which is a dedicated department for Further and Higher Education, Research and Science. Our constitution only allows us to have 15 government departments or 15 senior ministries, and we decided to have one dedicated to that area of higher education, science, research and innovation. There will be continued increase in government investment. A lot of it is done in a competitive way, which we think is a good way to do this, where companies, universities and researchers are bidding for finance. That's a model that we think works quite well for us.
The government, through its Enterprise Ireland agency, provides equity investment as well into high potential startups and innovative companies, which is a good model too. We can recoup money from that if these companies do well by selling the equity or allowing them to buy it back. We invest a lot as well in education, all the way from preschool through to our universities. We also have a good tax proposition. Like most countries, we have a knowledge box, which allows companies to offset against their taxes a lot of investment that they make in R&D.
In the EU context, what can you tell us about Ireland's role to develop and launch new European Digital Innovation Hubs?
We really only just started work on establishing the digital innovation hubs. We've put out a competition call looking for two or three to be selected in Ireland. We haven't had the results of that yet but it is something we're going to do, and we're enthusiastic about. We really want to use them once they're established to interface with small- and medium-sized enterprises (SMEs) and mid-caps in particular, because we want them to embrace the digital transformation. When Brexit is settled and when COVID is under control, we'll have to go back to what we were doing before, which is our twin transition: digital and climate. We're very keen for our SMEs to be part of that.
We've done a huge amount of work to try and get our smaller companies online, both before and during the pandemic. The pandemic has been an accelerator in that regard. Through our National Broadband Plan, we're investing €3 billion, which is a huge amount of money for Ireland. The aim is to bring fiber to 99 percent of homes, farms and businesses in the country. This was a controversial decision I made when I was Prime Minister two years ago, and the first homes were connected in rural Ireland last week. Nobody really doubts it now. Broadband is the future and Ireland is one of the first countries in the world to do this, to make high-speed broadband as ubiquitous as electricity or telephone lines would have been in the past.
The lockdowns and other elements of economic strain associated with the pandemic have increased the gap in Ireland's economy between large, export-focused multinationals and domestic business, which is comprised of thousands of SMEs in retail, hospitality and tourism among other sectors. How would you describe the role and contribution of SMEs to the Irish economy?
We need to bear in mind that SMEs and small firms, Irish owned, do contribute a lot toward employment. They account for almost 70 percent of employment in the state. They can often be criticized for not being as productive or having as big a turnover, as opposed to the multinational companies that are very much automated; but we need to bear in mind as well that a huge amount of our SMEs create a huge amount of employment. While they might not be paying huge amounts in corporation tax because their profits might be modest, the payroll value of those companies, in terms of the people they employ and the taxes associated with that, are pretty enormous. I think we need to always bear that in mind.
We need to help them to move up the value chain, help more of them to become exporters, because a lot don't export at all. They only export to Britain and that needs to change. We are helping them to go online and embrace the new digital reality. The pandemic has been a huge acceleration in that regard. Companies that were never online before, like restaurants and small shops, are doing it now and we're helping them to do that with advice.
As for the large multinational companies, could we say Ireland is leveraging their presence to accelerate its R&D and innovation agenda as well as to promote local knowledge and technology transfer?
What we're trying to do is to get multinationals to work more with SMEs and interface with them. What we see a lot of the time, unfortunately, is very successful small businesses being bought up by the big companies. That's a feature we see all around the world. That's just the reality of what we face. Other things we've done as well is that we've set up a government body called Knowledge Transfer Ireland, the goal of which is to turn the knowledge, information and research outputs of universities and companies into something that is commercial.
Having closed the 2020 chapter, it is time to start afresh from a clean slate. How would you summarize your ambitions and priorities for 2021, and what would you like your legacy as Minister of Enterprise, Trade and Employment to be?
Everything at the moment is about getting the pandemic under control and getting the virus back into its box. Without doing that, there's very little else we can do, quite frankly. We are dealing with the consequences of Brexit and managing the new difficulties. We will do that, but once we have the virus under control—and we will get it under control even if it keeps surprising us, the vaccination program is going to be key to getting the virus under control—we will reopen our economy and get people back to work. Hopefully by the end of 2022, really what I want to do in that period is to get those 20,000 businesses back open, get those half a million people back to work. And when they do go back to work, I want them to have more secure, better-paid jobs and better terms and conditions.
I think one thing the pandemic has exposed is a lot of the unfairnesses in the way our economy is structured: the public sector, including me, has been largely protected, we've kept our jobs, we've kept our incomes. The real financial hit has been on the private sector. Companies in certain sectors, but not others, and people in certain sectors, but not others. The kind of things I'm bringing in at the moment are sick-pay leave, for example, to make sure that everyone has a legal entitlement to sick pay, which is not the case in Ireland at the moment. We want to move toward a higher minimum wage than we have currently, and we also want to bring in a system of auto-enrollment so that everyone working in the private sector has access to a pension fund other than the basic state pension. That's the kind of better world we want to build afterwards.
Besides that, we have a new strategy around remote working because we now know lots of people can work from a small town or rural area. We want to make that a permanent choice after the pandemic, which I think will be transformational. It'll be a really good thing for rural areas, small towns and villages, but it also forces us to reimagine our cities, not as places that people commute in and out of but as places that people want to actually live and work in. The battle among countries in the future is going to be a battle for talent, as much as a battle for companies. We need to make sure that our cities are places that people from all over the world who are bright, talented and qualified want to move to, to live in.
What's your vision for the longer term, for the next generation of Irish talent? What are the key strategic investments to take now to guarantee their future?
That's always hard to know as the next big thing keeps on changing. It's always hard to predict these things. One thing we're certainly putting a lot of focus into is not just our universities, but also the concept of lifelong learning. The idea is that most people who are now in their 20s and 30s will not have one career, but they may have several. We need to facilitate that. We are also putting particular investment into the early years, because the best return in terms of return-on-your-cash investment is actually in those earliest years. We have a system now where every child in Ireland has two years of free preschool before they go to school. We want to kind of expand on that.
What would be your final message to conclude this interview?
Ireland, like all of the world, is going through a very difficult period as a consequence of the pandemic, but we are a resilient, modern and very capable country, with very determined people, and we're going to bounce back from this, and bounce back very quickly.