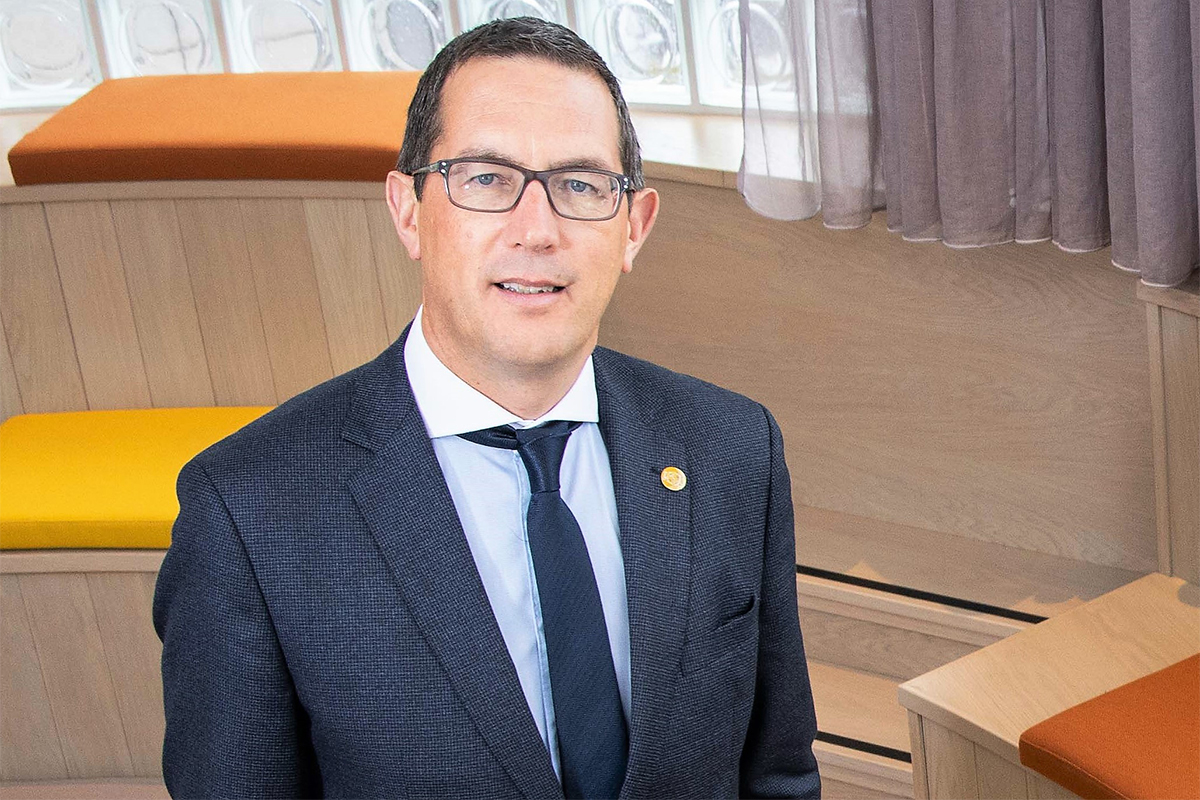 12 Jan

Cork: Ireland's thriving second city delivers quality of life and opportunities for investors
Conor Healy, CEO, Cork Chamber, reveals how the fastest-growing Irish city region is ensuring the best possible environment for living, working and doing business
With a strong history that goes back 200 years, today Cork Chamber is responsible for an increasingly metropolitan business community in the fastest-growing region of Ireland. Can you give our readers a rapid overview of the chamber? How does it contribute to the economic development of the city, for example, and what is its role in strengthening the private sector and empowering entrepreneurs?
In 2019, Cork Chamber celebrated 200 years of supporting and representing the business community in Cork. We have a long track record of doing that. Currently, we're the largest chamber of commerce in Ireland in terms of membership: we have about 1,200 members that employ over 100,000 people all across the Cork region and across pretty much every sector of business, as well as every cohort of business from large multinationals and large indigenous companies, all the way through to startups and smaller retail and service businesses. So, our membership covers the full spectrum. We provide a significant level of service to our members in terms of helping them to grow and develop their businesses, in terms of training and promotion, and in providing connectivity to our members, which is obviously virtual connectivity at the moment.
In ordinary circumstances, we would run a full range of events, networking, seminars, conferences and so forth, similar to other chambers globally. We also have a very strong function in terms of our international activities, where we work very hard in our promotion of Cork as a region to invest and to live in. We're very focused on the whole area of talent attraction and highlighting all of the benefits that Cork has to a global and mobile workforce, in terms of being a key location to live and work in, and particularly based around the very significant career opportunities that are available in the Cork region at the moment.
And then, very particularly, our role is around representing the business community. We are a lobbying advocacy organization. We spend considerable time engaging with central government at a political level, civil-service level and with all of the state and government agencies, and also at local level through our local authorities and our university sector. Our role is to advocate and represent our members on the key business issues of the day. Our vision as an organization is for Cork to be the best place for business. That encompasses a wide range of focus areas. We have a very strong public affairs program. Our role is to continually advance the ongoing economic development of the Cork region, in partnership with a wide range of stakeholders.
Can you tell us about some of the highlights of the chamber's Strategic Plan 2018-2020 and how they relate to Ireland's national plans like the Regional Spatial and Economic Strategy for the Southern Region and the National Planning framework, which are designed to underpin Cork city as the primary urban center in the region?
We're coming towards the end of that strategic plan and are currently developing our next strategic plan for 2021 to 2024. The last three years have really been about ensuring that Cork continues to advance and develop in line with those national strategies that you have mentioned. Our focus has been primarily around delivery of the national development plan and planning framework. That has identified Cork as the fastest-growing city region in the country over the next 20 years or so.
That requires a lot of government investment and commitment across a range of key projects. So our role over the last few years has been advancing delivery of the plan and engaging with government on key aspects of it to ensure that Cork continues to develop and progress in line with the plan set out by government. That proved very successful: we've seen very significant investment in infrastructure, in terms of new offices, new hotel infrastructure and housing development. We're very focused on seeing continued development in areas like public transport and advanced airline connectivity through our airport.
It's fair to say that in the last 10-11 months, we've seen an element of a slowdown in progress as a result of COVID-19. That's been a challenge but one that we're confident we will overcome very quickly. We're focused now on moving beyond the current challenges and looking toward the future in terms of the post-COVID environment, where we see ourselves getting back to where we had been and getting back to that very positive trajectory, certainly toward the middle and back end of 2021.
As a membership organization, We have also been quite focused over the last three years on seeing increased engagement with our members and providing additional membership value to them, because membership organizations are all about the connectivity that you have with your members, the relationship that you build and how well you represent them. So, we've seen a continually growing membership base over that period of time. And we're very much focused on the mandate that our members provide us with to represent them.
Prior to the pandemic, the city and region of Cork had started to compete on the global stage. Last year, the city was named Europe's fifth best for economic potential by the Financial Times. If we take a glance at the city of Cork today, what would you say are some of its claims to fame, most notable achievements, and competitive advantages compared to other European cities?
It is fair to say that it's not ideal to have both COVID-19 and Brexit occurring at the same time. Despite that, there has been a huge amount of resilience in the Irish and the Cork economies. Obviously, we're in the very early days of Brexit and despite initial challenges in terms of supply chain, logistics and so on, many of those issues will be resolved. We're very much looking to continuing to build, in a Brexit environment, our new trading relationships. Continuing to grow relationships in the U.K.—even though it is now outside of the EU, it is still our closest neighbor, our largest trading partner. We will see a continuation of relationships there, but also new opportunities to perhaps focus a little bit more on new markets, particularly across mainland Europe. That's something that's of growing significance to us.
It's also bringing up new opportunities in terms of connectivity. Even in the last few months, we've seen new connectivity by sea between Cork and Brussels, into Zeebrugge with a new connection in there. We also have the first connectivity from Cork to the east coast of the U.S. by sea. It's fair to say that Brexit has been a stimulus for that type of connectivity, whereas we would have been particularly concentrated on our connectivity to the U.K. in the past. We see a lot of opportunity in this area.
In terms of how business coped with COVID, certain sectors have done very well. If you look at areas like technology, professional services and pharma, all of those areas have done well and some particularly well as a result of COVID. In retail, many businesses have struggled but those that were in a position to pivot to a strong online retail offering have also done very well, as have all the support services around that, in terms of delivery and so on. At the other end, businesses in tourism, hospitality and retail that did not have an online offering have obviously been very significantly challenged over the last 10-11 months or so.
We engaged and surveyed our members all the way through the COVID period. Our government has done a good job in supporting business in terms of the various grant and employment supports that have been put in place. And while we will undoubtedly have casualties and some business closures, many businesses are taking the opportunity to refresh and are investing in their facilities, offices, research, development and innovation, so that they're ready to emerge from the COVID environment. That's really positive.
Obviously the big positive is around the really rapid change in digital connectivity and how digital technology, digital trade and digital work have advanced in a relatively short period of time. And considering the nature of the Irish economy, and the types foreign-investment and indigenous companies that we have, the future is very bright as we move beyond COVID issues into how we can benefit from the opportunities that COVID has generated over the last year.
How has Cork city managed to attract such a high amount of foreign direct investment (FDI) from companies from big-name international companies?
Cork has a long track record in FDI going back to the 1970s and 1980s. In fact, Apple celebrated its 40th anniversary of operations in Cork last year. Apple now has approximately 6,000 people working out of Cork and it's a very significant part of Apple's global operations. Similarly on the pharma side: Pfizer established operations here in 1969 and that led to pretty much all of the large U.S. pharma companies investing in the Cork region over the next 20 years and onward. We continue to have that level of investment now and it's great to see how successful the response of Pfizer and others in the sector has been to COVID vaccine development and so on. It really is incredible. And it's very positive for us to have those organizations based in our region.
IDA Ireland, our national inward investment agency, has obviously played a key role. But the business environment in Cork has proven to be one that is very attractive to investors. Investors require a really strong talent pool and highly skilled workforce. At a national level and in Cork, we've continued to produce graduates of the highest level from both our University College Cork and our newly developed Munster Technological University (MTU), which has been a key source of confidence for those investors.
Infrastructure is important as well. Cork is a very accessible location. Our connectivity both direct and via major hubs such as London, Paris and Amsterdam makes us a very easy location to connect with.
Much of our FDI is of U.S. origin and there are very strong connections and relationships between Ireland and the U.S. With the U.K. having left the EU, we see very significant opportunity now for additional investment: where U.S. investors in particular would have previously looked to potentially invest in the U.K. as part of the EU, they will now look to other locations within the EU for those investments. We feel that Ireland and Cork are very strongly positioned to benefit from that new FDI environment post Brexit.
Cork is a small city and being a small city makes it a very livable city. We don't have the same cost challenges other locations may have, we're very competitive. You don't have the same level of restriction in terms of employee movement. What's becoming increasingly important for all employers and employees now is sustainability. We're very focused on Cork as a living location, a really attractive place in terms of quality of life, and one which is building and focused on the United Nations Sustainable Development Goals as a platform and pillar for how we develop as a city region into the future. We see that being a growing part of decision making for investors—it's no longer just about having the people and the technology. Investors want more: they want regions that are really conscious of sustainability and resilience. That's an area that we have in abundance in Cork.
Does the Cork Chamber have an official role in promoting the city?
Within our own organization we have an international division and part of its role is attracting both people and investment to Cork. We established a program a number of years ago called Connecting Cork, which is a program of engagement with regions and other cities around the world to promote Cork as a location in which to invest and live, build your career and build your life. We work in partnership with other stakeholders, such as universities, the local authorities in Cork and with IDA Ireland as the lead investment agency. It's very much a partnership approach. Our key role is around ensuring that whatever is required by businesses or investors—to help with their ongoing activities in Cork or in their decision making regarding future investments—is in place, so that business is as seamless and as supported as possible in Cork.
With vaccine programs in place and a new administration in the U.S., what is your outlook for 2021 from a business point of view?
It's really positive. We are excited about the new opportunities that exist in terms of new relationships with the U.S. We have traditionally had strong relationships with the U.S. and look forward, under the new administration, to building on those and developing stronger links between Ireland and the U.S., but also between the EU and the U.S. over the next few years.
Ireland and Cork have always proven to be strong locations in terms of supporting U.S. businesses as they engage globally and, particularly, as they engage in the European market. We're positioned as being that access point and platform for those companies to move out of the U.S. and into the global marketplace. The post-Brexit environment presents some opportunities and we're looking to continue to build on the relationship that we have with the U.K., albeit with the U.K. being outside of the EU, but now we are also taking the opportunity to build new relationships across Europe that perhaps we wouldn't have focused on as much had Brexit not taken place. That's important.
At a national fiscal level, despite the COVID challenges, we're well positioned for growth. Our economic projections are good, we're in a relatively strong fiscal position and at the government level we continue to see lots of investment in terms of infrastructure. A new National Development Plan is in review at the moment. That will form the basis of an investment plan for the next 10 years and Cork will be a major part of that investment plan. We're very encouraged and excited by the opportunities that this presents. You referenced at the outset that we have a reputation in terms of bouncing back and responding quickly to challenges. I think we will look back on some of the current challenges in a few years' time and regard them as maybe a bump in the road as we continue to grow and develop.
Upskilling was a prominent topic in your 2018-2020 strategic plan. Could you tell us a little about the efforts that the Cork Chamber is taking with regard to upskilling, reskilling and making sure that the local labor force is fit for the needs of businesses today? 
It's a fairly wide-ranging point, as skill requirements continue to change and you have to be in a position to adapt throughout the spectrum, from higher-level university advancement and university placements, all the way to apprenticeships at a craft level. It's really important that you have the right people in place, that you have the right resources in place, and that you continue to recognize the needs of the marketplace and the needs of employers.
That's something we are focused strongly on through the different organizations. Skill-net is a highly significant enterprise-led program providing training opportunities to businesses and employees to continue to upskill. But our universities and colleges of further education also continue to be focused on producing top-quality talent across the key areas. New and emerging technology areas—like cybersecurity, augmented reality, cell and gene therapies, vaccine development and other areas of life sciences—are going to be the way of the future and they're the core areas of focus across our research, education and training environments. We're very much positioning for the future. You need to look ahead and understand what the next wave of requirements will be and then take the steps now to ensure that you have the appropriate programs in place to deliver those skills for when they're needed.
What incentives are you putting in place to drive young professionals to choose Cork to develop their careers and as a place to work remotely?
We're focused on having the right infrastructure in place. I mentioned having an environment that is focused on sustainability and resilience, having an excellent balance between life and work. That's really important. We have a lot of focus on developing our city center. We're in the process of developing a new Docklands area within the city, which will be a mix of apartments, office and retail as a new city within Cork city. That's where we see the future over the next 20 to 30 years. It is already proving to be a very attractive environment for both new investors and for people to work. Also, we continue to develop the residential side of Cork as a place to live. Sustainable transport is important: people want to live in a location that has good-quality public transport, and provision for walking and cycling. We are focused on that mix of transport options as much as possible and are seeing the model shift away from cars to sustainable and active travel methods.
Art and culture are important to people as well. People want to live and work in locations that are as much about how you live. We're focused on the reputation that Cork has as a thriving location for the arts community and as a very culturally aware location. We see as being a differentiator and a big competitive advantage into the future. If you put those sorts of building blocks in place for people, then you will attract people to our region. And if you can combine that with really good career opportunities, that's where you will be successful. So, our approach is on ensuring that we have a mix in terms of quality of life and balance between work and lifestyle. If we have that correct, as we believe we do, then we will continue to attract people to our region. And if you have the people you will attract the investment.
Do you have a final message for our readers?
Cork is a thriving second-city region, which is poised for significant growth over the next 20 years. The Irish government has identified Cork as the fastest-growing city region in our country over the next two decades. We're very focused on accelerating the level of growth that we have had for the last decade, and on ensuring that we have the correct environment for both businesses and a growing population—and we are particularly focusing on quality of life, education, sustainability and providing the best possible environment for investors and their employees to grow in a very forward-looking, exciting city in a fantastic country, which is really determined to continue to deliver the best quality of life and opportunities for business.