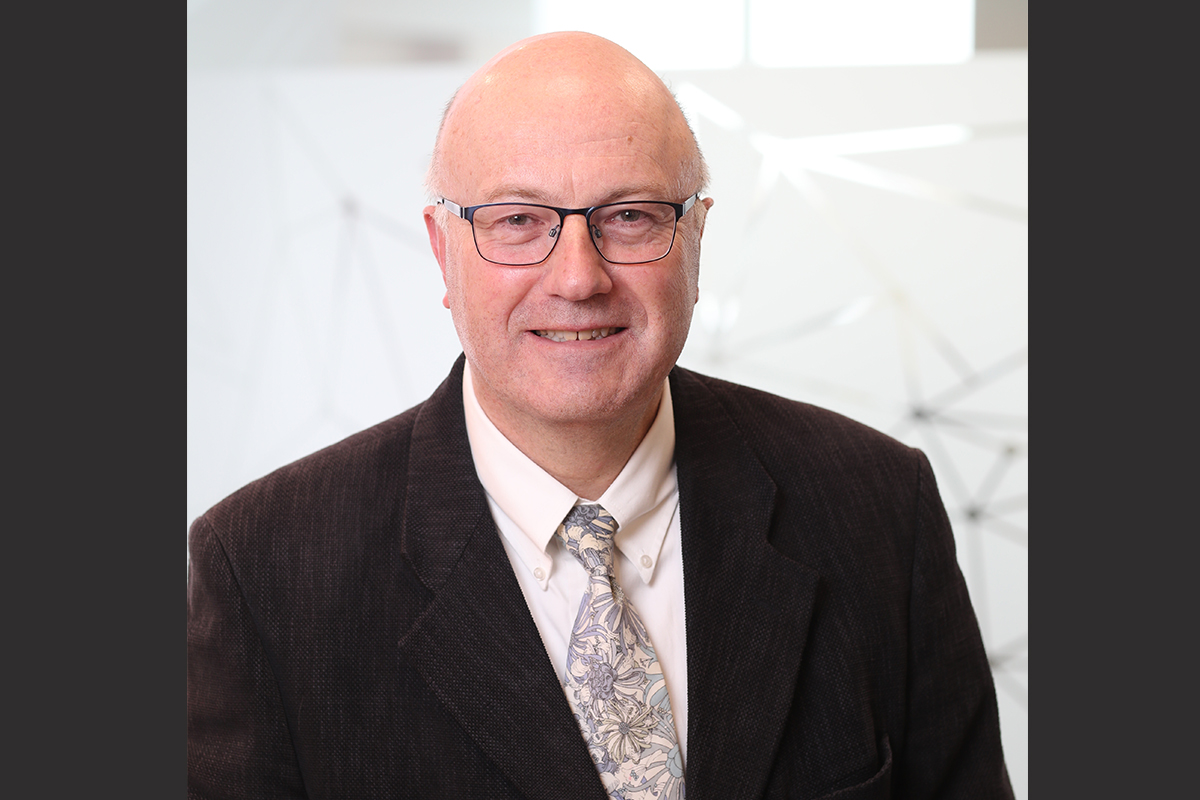 07 Jan

Ireland invests and collaborates to become a global leader in research and innovation
Mark Ferguson, Director General, Science Foundation Ireland, introduces the public catalyst of the Irish research ecosystem that is funding projects and talent that make a difference
At the presentation of Science Foundation Ireland's (SFI's) 2019 annual report last summer, Minister for Further and Higher Education, Research, Innovation and Science Simon Harris announced that Ireland is a world leader in immunology research positioning, with SFI and Ireland as a nation being at the forefront of the global response to COVID-19. What are the key elements behind Ireland's leadership in this area?
We are fortunate that Ireland has built up a number of world leading academic researchers in immunology, hence our high standing in terms of citations. Many of those are at Trinity College Dublin, including Kingston Mill and Luke O'Neill, but there are other important institutions as well, such as Maynooth University, University College Cork and so on.
When the COVID-19 pandemic broke out, we realigned SFI's priorities and reallocated the existing budget. We developed a five-point plan, which included a rapid response research and innovation program, which was aimed at getting the scientific community—both in academia and industry—mobilized very quickly to address urgent problems. We worked in collaboration with all of the research funders in Ireland on a single call and we said we'd sort out who funded what at the back end. This call happened in two phases: first to address the immediate challenges, then to address things that were medium term and, in the latter phase, we co-funded with colleagues in Northern Ireland and set up the appropriate agreements so that the research could be an all-Ireland basis.
Another part of our plan was problem curation—brokering research expertise into our public health system. This is for when a body had a problem that they needed help with from the research community. As an example, the Health Service Executive launched a COVID-19 tracing app, the most successful launch of any app in the world, which had more than a million downloads in its first 36 hours. In order to get that successfully into the population, you need to address upfront privacy concerns. The developers of this tracing app, together with the Health Service Executive, engaged extensively with SFI researchers, who provided advice on lots of things, such as opening the code to people so they could interrogate it and make sure there weren't any back-door flows to worry about.
In the early days of COVID-19, another part of the plan was to be a repository for information. We had a place where people could go to find publications, reports and so on. In the early days, coordination was also very important, including international coordination with other chief scientific advisors and bodies so as to learn and adapt rapidly.
There are elements of this that we will want to carry over post COVID—for example, moving at pace in how we manage our programs with no loss of quality, bridging the gap between government and researchers, and breaking down the silos between funding agencies. These are all positives that, if we can bring them forward, would be good for our research and development (R&D) and innovation ecosystem. We can solve important research problems that may have either societal, public or commercial interest.
What do you see as being the lasting impact of the COVID crisis on research in Ireland?
I think that the community in Ireland and across the world has shown great cohesiveness and collaboration. I think we can build further on this collaborative approach—if we do, we will be able to provide solutions to many other challenges we face, such as climate change.
SFI, like many funders, conducts international reviews of the research it funds. All of that's being done virtually now and a significant amount of virtual activity will continue going forward. It enables us to attract reviewers that might not have been in a position to travel to Ireland and it reduces our carbon footprint.
In my view, COVID-19 has accelerated trends that we all knew were there; digitalization, artificial intelligence (AI), robotics were all there, all these things have only been accelerated. In February 2020, SFI as an organization did eight video calls, against 8,000 last month. In the course of a few months, we've gone from eight to 8,000 and people just had to embrace the technology. It has changed how we work forever.
What do you view as the main threats and opportunities for the research community in Ireland and how is the SFI tackling these?
I think the opportunities are enormous. I am an optimist at heart and this is probably the most exciting time ever to be alive in science. There is a huge wave of discovery. There's very rapid application and there are innovative businesses being formed. There are large companies that are transforming. There's an awful lot happening, in information and communication technologies (ICT), life sciences, AI—all of those fields and that's really interesting and exciting. The opportunity in Ireland is to make sure that we are leading edge, both with our national and European programs, and also to be focused, we can't do everything. As a small country, we can't do everything well, but we can do some things really well and that's got to be part of the mix.
Science is at the forefront of providing solutions to the pandemic, with everybody recognizing the importance of science. Science is the exit route, through vaccines, testing and so on. We need to make sure that this carries over, that appropriate funding is in place to support research and innovation to ensure we benefit from the enormous potential from the pace of current discovery.
Lastly, as always, we must make sure that our programs are cutting edge and fit for purpose, supporting both fundamental discovery, as well as the frontiers of the application of that into innovative new companies or on to existing companies. For me, the glass is more half full than it is half empty, I think there's a huge amount of opportunity.
Delving a little bit further into the SFI, how would you describe its contribution and its mission, both in Ireland and also internationally?
I see SFI as the foundation for the future. We fund absolutely cutting-edge research in Ireland. It's not just about being the best in Ireland, it's about being the best in the world. Science is a global phenomenon and, therefore, you have to be at the cutting-edge globally. We want to support young people coming into science, from PhD students to early career researchers. We want to make sure that there's an appropriate mechanism so people can progress through, for example, to get a PhD with postdoctoral experience, then exit either into a very successful career in industry, fund their own company or they can go into academia—breaking down the silos so it's easier to move between the two. Making sure that we can support that indigenous talent: that's what I call a grow-your-own strategy.
Then there's got to be a buy-your-own strategy: you've got to be able to attract people into the country. We want to recruit really stunning people into Ireland, research leaders, people with future potential from students to senior academics. Ireland is a very open economy. We embrace that openness and, therefore, you need to have both the opportunity to grow your own talent and also to bring in talent. Ireland is a small country and excellence is distributed across the universities, so SFI Research Centres pull together all of those excellent people. Collaboration is core to what we do. We encourage all of the excellent people in Ireland within a particular domain to collaborate with each other and with industry. A third of their money comes from us, a third they have to win from industry in cash and a third they have to win from competitive non-Irish exchequer sources; for that read the EU or charities. SFI Research Centres have to be in the top six in the world. That's a mechanism for distributed excellence. It's about collaboration at home and competing globally. I'm much more interested in researchers from the different universities collaborating and winning globally than ranking our universities nationally.
There are currently 16 SFI Research Centres in Ireland. We allocate about €600 million over six years to them, they get another €600 million from industry and another €600 million competitively from EU funding. They play a vital role in training PhD students, our future talent, and generate significant industry funding into the public research system. They have really changed the landscape, and I'm very proud of that. The ambition is to grow to round about 20 research centers in the future, and we would also like to develop all-Ireland research centers in collaboration with the U.K., so that we will incorporate institutions in Northern Ireland.
In a similar vein, SFI offers research professorships. We've attracted a large number—about 16 so far—of really excellent people. The latest recruit is a professor of AI from the University of Oxford, which is a number-one university in the world, from one of the hottest topics in the world, and that professor is relocating to Ireland and one of our research centers. We want to attract stars; stars matter—they attract other good researchers and students internationally, they interact with industry, they spin out companies—that is, they act like a catalytic multiplier to improve the research ecosystem.
Support for young researchers is also really important. In a new program, we funded 1,000 PhD students, all focused in the area of ICT and all in SFI Centres for Research Training. My ambition is to have the best training programs in the world for PhD researchers, who will have depth in their domain, but also breadth in terms of understanding how to apply that to different problems. Again, that is collaborative across all of institutions, so you can be a PhD student registered in any university in Ireland in a big data, ICT or artificial intelligence initiative, and you come together with your cohorts from the other universities, you're trained by the very best people from around the world, you get projects that can either be in academia or industry, either in Ireland or overseas. This is an important and significant achievement for us.
We also have to be forward looking in terms of having different mechanisms for future engagement of the public. We want to make sure that young people are engaged, that people understand science, that scientists understand the concerns of the public, so there's co-creation and addressing what the real issues are, whether they be related to privacy or genetic engineering or something else.
In addition to immunology, which other fields does SFI have most experience and success in at the moment?
We have a number of areas of success and leadership across the board. In terms of the microbiome—that's gut microbe interactions—the APC Microbiome Ireland SFI Research Centre is number one in the world with regard to citations for the microbiome. The microbiome is important for human health, as a sort of interface between nutrition and pharmacology. It's also important for animal health for farming as well as in a large number of other areas. That is a clear area of leadership.
The whole area of ICT and digital is very important. SFI has research centers in these fields. Insight is the largest big-data research center in Ireland, while ADAPT focuses on AI-driven digital content technology and Lero in software. Digitalization of agriculture is really important and Vistamilk is a research center we co-fund with the Department of Agriculture that's looking at the interface between ICT and digital in the dairy sector.
Within the life sciences, particularly pharmaceutical manufacturing and linked to that the digitalization of manufacturing are key. Manufacturing is an important industrial base within Ireland, so we have two centers that focus on advanced manufacturing. Most of the medical device companies are in Ireland and so we have an absolutely state-of-the-art medical device research center, CURAM, and more recently we have supported a neuroscience center: Futureneuro.
Ireland spends around 1.3-1.5 percent of its GDP on R&D, with private-sector enterprises accounting for about 71 percent of total expenditure. This number seems quite low, but that's only because of the country's recent rapid GDP growth. How do you view Ireland's role and position in Europe in terms of R&D?
During the economic downturn post 2008, Ireland kept its R&D budget stable, when many countries cut their research budgets. That was the right strategy. We focused on efficiency, on trying to get the maximum amount out of the investment. Research centers leveraging industrial funding, winning in Europe and so on. If you look at Eurostat's data, Ireland is the most efficient R&D country in Europe. We extract the maximum innovation output for what is essentially an underspend in terms of money.
Secondly, Ireland underspends. We are on track to grow our budget, because efficiency only takes you so far. We want to continue to be on the track to grow the budget post-COVID despite the financial challenges. That explains why Ireland's performance is not reflective of the percentages: it's because we're more efficient. We recognize that we need to invest more. We need to grow, both public and private investment and we do have a strategy for doing that, which is in part about talent, part about collaborative programs, part about spinning out disruptive companies, and part about funding fundamental research and just putting a bit more fuel in the tank.
We're also very proud members of the EU and very active participants in the European program. Using national funding to catalytically win European funding is a very good use of national resources. Being able to position groups so that they can lead and win in bigger European consortia is also a focus for the strategy. We were very successful in securing funding under Horizon 2020 and want to continue this approach under Horizon Europe.
How is SFI working to enhance its partnership with the academic world and the private sector to create better flows of funding and knowledge, both in Ireland and internationally?
Small has its advantages. We work very closely with other government agencies: IDA Ireland in working to support foreign direct investment and Enterprise Ireland in the focus on scaling Irish companies. We are a small country and with that comes tremendous opportunity to really work collaboratively. Today, there is much more permeability between industry and academia. You see that best, for example, in some of the research labs in the U.S., in Silicon Valley or the East Coast in Boston, and we want to have that as well. We want people to be able to move seamlessly at different points in their career between academia and industry. We also want to have a lot of co-creation, good collaboration.
For me, the sweet spot is where a company needs to be at the leading edge of some area of research—it couldn't justify spending 100-percent shareholder money on that because it's too risky, but it could justify contributing to the costs. If you look through the eyes of the company, what they're going to ask is, where are the best people in the world? You don't have to be the best, but you have to be among the best. Are they user friendly? Do they deliver? Can you trust them? Are they going to be straightforward? And is there any matching funding? So, I want our researchers to be at the leading edge of discovery. I want them to be user friendly with industry and we have collaborative programs for companies from PhD students to secondment opportunities for researchers.
We're proud of our partnerships and traditional ideas like industry research that is not very applied and not publishable, that's from a past era. You now find most of the exciting research is collaborative with industry, with the top talent in academia and industry driving new discovery together, as can be seen with AI, for example. You'll find many of the most exciting people in quantum physics, in companies as well as academia. We just need to embrace all of that and to understand that you can actually make cutting-edge scientific discoveries and you look at their exploitation and their development.
I think there is a major opportunity with the green revolution and that's somewhere where Ireland will want to play a role. I mean, what could be better than doing good for the planet, advancing science, and contributing to jobs and the economy? If you can do that, then you will be doing good for the world. New technology is going to advance in areas such as carbon-dioxide (CO2) capture and storage plus renewable energy management, and we will see really successful new companies driving change that will tackle and solve the big challenges. I think you'll see a revolution in energy, in agriculture and in the in the use of CO2 as either a catalyst or a substrate in the future.
How would you summarize your ambitions for taking SFI to the next level?
In order to take SFI to the next level, we need to grow our existing programs and we need to launch new activities. Among these, we are planning on intensifying our collaboration with Northern Ireland and internationally, with the U.S., U.K. and with mainland Europe predominantly but, of course, with China and Japan as well. Engagement with the public is also key, to make sure that you have appropriate co-creation. Very important is challenge-based funding. I'm a big fan of challenge-based funding, defining challenges and then making sure that we can fund them and solve them is an important facet. All of those things are required. It's about growing the system, attracting excellent people, providing opportunities for people who are within the system, supporting excellent research, being collaborators, using our funding catalytically to drive performance within Europe and within the industrial sector, and then making sure that we address societal challenges. This is what our new strategy "Shaping Our Future" is about. It's our plan for the next five years. It's very ambitious, but I'd much rather have an ambitious plan and achieve 80 percent of it, than an unambitious plan and achieve 100 percent of it.
What's your final message to our Newsweek readers?
Ireland wants to be a global leader in terms of research and innovation. It will invest appropriately and it will collaborate appropriately both nationally and internationally with researchers, funders and companies large and small in order to achieve that. We are a very open economy, we attract talented people from all over the world, who are very welcome to come to Ireland to participate and contribute equally in our research and innovation system. In Ireland, we have always recognized the need to have talent at all levels—to be talent friendly. We are very happy for our talented people to move around the world. I don't believe in brain drain; I actually believe in brain recirculation. I think it's very good for people to move and so we're extremely open about that. At SFI, we fund research that makes a difference to our society and economy, now and into the future.