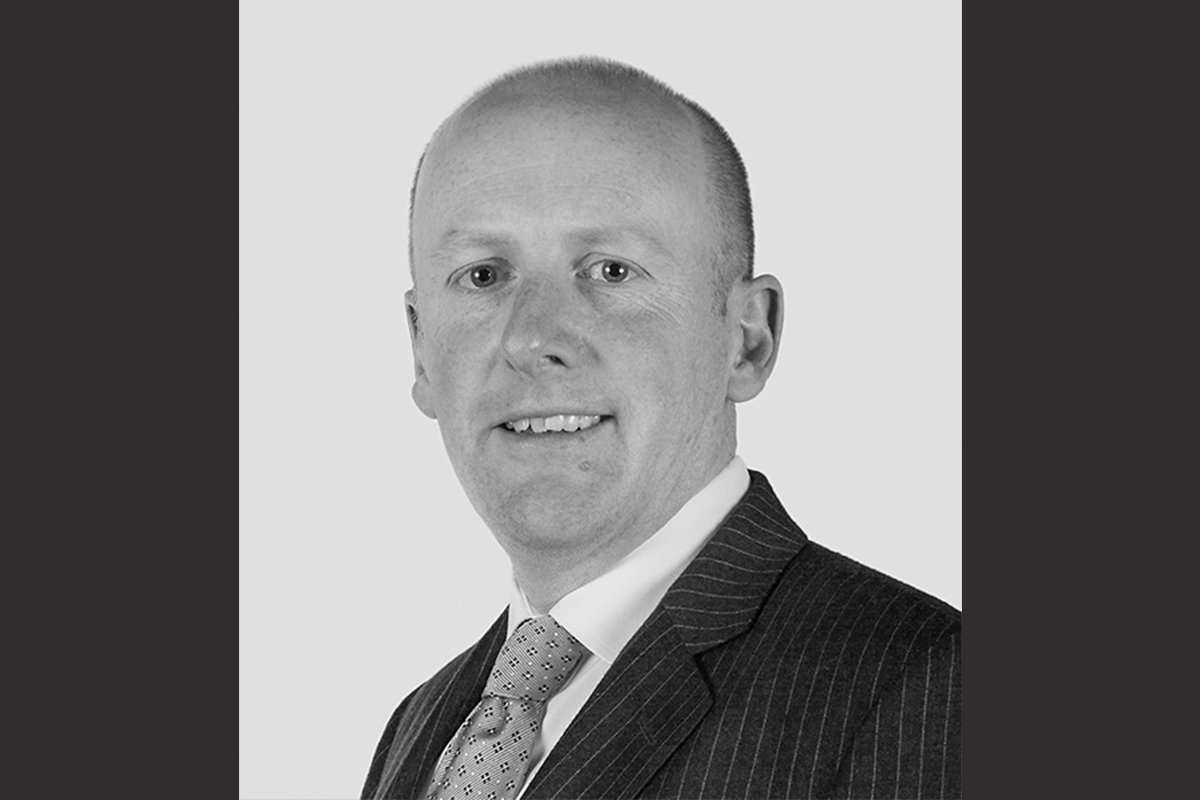 04 Jan

Ireland's largest public transport operator takes an active role in the economy's recovery
Lorcan O'Connor, CEO of CIÉ Group, sees the COVID-19 crisis as a huge opportunity for the development of sustainable transportation, tourism and housing
CIÉ Group is a key asset in the Irish population's everyday lives. The group controls transportation lines as well as the Rosslare Europort and a large amount of property. In 2019, CIÉ recorded 280 million passenger journeys and €1.4 billion in turnover. Can you give us an overview of CIÉ and its importance in Ireland? How is the group contributing to the country's economic success and growth, and to its welfare?
The CIÉ group is primarily made up of three main operations: two bus companies, which operate both in urban settings and inter-urban settings all across the country, and Irish Rail, which operates the entire railway network and all passenger services across the country.
Other areas of the group include Rosslare Europort in the southeast of the country, which has become increasingly important to the wider economy as the impact of Brexit took hold at the end of 2020. The group also operates CIÉ Tours, which is an international tours company that primarily brings people into Ireland for coach tours. Its main market is the U.S. and it carries over 40,000 passengers every year on average. Those passengers largely remain in the rural areas of Ireland, where the tourism sector is particularly important.
Last but not least, CIÉ Group is one of the biggest landowners in Ireland. Those lands are largely close to transport hubs and they offer us a huge opportunity for sustainable, transport-oriented development , where we have high-density, high-quality developments close to high-speed public transport links, avoiding car dependency.
What are some of your most strategic assets in terms of properties and facilities?
Our most important strategic assets are our rail network and our network of bus garages across the country. They are necessary to deliver our services and carry over 280 million passengers a year. Beyond that, the land bank that is under the ownership of CIÉ is becoming increasingly important, as we try and deal with a housing shortage within Ireland. We also have to deal with the climate-change challenge and commitments around emissions. The way to do this is to ensure that future development is delivered on a sustainable basis. The fact that our lands are close to public-transport hubs will play a very important role.
Another key strategic asset, even more so in recent times, is Rosslare Europort, which is located in the southeast of the country and is now the largest port for direct services to Central Europe. This has become all the more important since the Brexit transition period ended last year. We have seen an increase year on year of almost 500 percent in freight traffic going through Rosslare to the continent.
Since its establishment in 1945, CIÉ Group has carried out a series of acquisitions and kept its growth on a solid path thanks to constant developments. What are the group's major expansion plans at the moment, and is the further development and connection of Ireland's regions and rural areas a priority?
First, we are working on increasing capacity across our existing services. Secondly, we need to ensure that those services are clean and sustainable from an environmental perspective. In terms of capacity, we are currently in the process of delivering what's called DART Plus, which is a capital investment program of over €2 billion across the greater Dublin area. Once complete, almost all commuter train services in and out of the capital will be electrified. We are also working to ensure the electricity used to power these services will be green. Our hope is that this will mean our commuter trains will operate on a zero-emissions basis. The project will also see a very significant increase in capacity of services all across the general region, which in turn will help deliver greater modal shift away from the car.
Beyond Dublin itself, there are also some important investment plans in the regions on the rail side, particularly around Cork, Limerick and Galway cities. There are pre-existing lines that we're hoping to expand upon in the coming years, which can be delivered in relatively short order. It will be important to ensure balanced regional development. We want to avoid all of the focus or all of the development being on the east side of the country. It's important that the other cities across the country take their fair share of development as it eases the burden on any particular region. Public transport can ensure that those regions are better connected so the rail enhancements there will be important.
Beyond rail, there are significant investment plans around the bus network all around the country, not just in cities. These projects are being led through the National Transport Authority. These are designed to increase capacity, to increase modal share and regional connectivity. That's being done under the umbrella of the BusConnects program, which itself envisages a capital investment by the government in excess of €2 billion over the next few years, to see a real step change in the quality of service, reliability and capacity on the bus network across the country.
COVID-19 has had a devastating effect on industry at all levels and the transportation sector is no different. How has the pandemic affected Irish public transport, and what have been some of its consequences for the group and for the public?
Clearly, COVID-19 was a massive shock to all sectors and particularly so for the public transport sector. We experienced significant operational challenges last year in the initial stages, to ensure that our staff and customers were safe. Yet we can proudly look back and say that we did a good job. We maintained our services throughout the pandemic, which was important first and foremost to ensure that we were able to transport essential workers to their jobs. Equally, it was important just to maintain the semblance of normality—stopping public transport completely would have had very negative connotations.
In terms of our recovery, of course we're not yet through the pandemic at this stage, but certainly there is light at the end of the tunnel. When we look at the experience of public transport operators in some other parts of the world, we do see that once people feel that it is safe and appropriate to return to public transport, you can get back to reasonably high levels of patronage, but it will take a period of time.
Our tourism business, CIÉ Tours, was particularly hard hit. The tourism sector was one that closed, literally overnight and has been closed for the best part of a year. That has been a shock and we've had to carefully manage the business through those most difficult months. We are optimistic, particularly with regard to 2022, and are working with the likes of Tourism Ireland, which is responsible for promoting Ireland as a tourism destination across the world. According to surveys and feedback, customers continue to aspire to come to Ireland on holiday and they're going to come as soon as appropriate and safe. For that reason, CIÉ Tours and the tourism sector are quite optimistic with regard to 2022, but obviously the current year remains challenging for the entire sector.
What is your outlook for the future of transport after COVID?
This was a very unique set of circumstances that arose and I don't think it is something that anybody could have accurately or comprehensively planned for. I am proud of what we managed to achieve last year, which was the maintenance of safe services and the overall stability of the group, together with assistance from the Irish government.
Looking to the future, we believe that the challenges posed by COVID also represent an opportunity, especially around the post-COVID recovery. From my perspective, COVID offers a huge opportunity to ensure that we recover on a sustainable basis and step up our climate-change obligations. That's reflected in the Irish government's targets now, which envisage a 50-percent cut in emissions by 2030 and net-zero emissions by 2050. This is the opportunity for us to really pivot and ensure that we meet those targets. Public transport, by definition, is a sustainable mode of transport, but I think it can play an increasingly important role in the future. With all of the capital investment that's envisaged in the public transport network over the coming years, and the increasing capacity and frequency of services that that will bring, we can see a huge increase in modal shift over the coming years, which will help ensure we meet those climate-change targets. My sense is that the general public really wants to see the recovery from COVID-19 to be a positive, sustainable one.
In terms of our property development business, there are question marks around the future of offices space in particular. But there is still a shortage of housing that needs to be built, and the best place to build it is close to public-transport links to ensure that this development doesn't generate unnecessary emissions and it's done on a sustainable basis. We see opportunities for the group there. In terms of tourism, which is a very important element of the economy, particularly for rural Ireland, we see a bounce back next year, after two very difficult years. We hope that CIÉ Tours, which is the largest generator of inward tourism from the U.S., can lead the way in this area.
Brexit has caused bottlenecks in logistics, transport and tourism. What measures did CIÉ Group take to prepare for the Brexit transition and what has been the impact of Brexit so far on your activities?
Like every business, we put in place contingency plans in the run up to Brexit, ensuring that our supply chains were robust and that we didn't have any threat to our day-to-day services as a result. There were obviously concerns around what impact Brexit might have on the performance of the economy, and hence demand for our services, but I think the impact of COVID has overtaken that. It may well be a number of years before we can know for sure whether or not there has been any direct impact here. Post-Brexit, Rosslare Europort has become an extremely important strategic asset for Ireland in that the export industry now is desperate to ensure efficient and consistent transport lines through to Continental Europe. That is exactly what Rosslare Europort can provide. We have invested heavily in that port in recent years in preparedness for Brexit. We have the capacity to accommodate all of that additional business. We are already experiencing close to a 500-percent increase in traffic through that port to Continental Europe compared to this time last year.
What kind of new opportunities do you think could come from Brexit?
We worked closely with Translink, which is our equivalent organization in Northern Ireland, to ensure cross-border bus and rail services were not impacted by Brexit. We don't see Brexit having any direct impact on our core services within the country.
Digitalization is transforming the way of doing business from manufacturing and logistics all the way down to getting your coffee in the morning. What new technologies is CIÉ employing to upgrade or diversify your services?
The National Transport Authority is leading a project to deliver next-generation ticketing across public transport services. Another important area for us in terms of technology advancement is around fuel, whether it be for bus or rail services. We are already transitioning our bus fleet to zero-emission vehicles and the National Transport Authority has recently issued a tender for all electric vehicles. The CIÉ Group trialed hydrogen buses recently as well. We expect an accelerated move away from diesel vehicles through to battery-powered vehicles, whether they be plug-in electric or based on hydrogen fuel cells, particularly for urban services. On the rail side, the DART Plus investment program envisages a significant increase in the electrification of our railway network.
Hydrogen is currently a fledgling industry, but one that is likely going to play an important role for Ireland in meeting its climate-change targets. The establishment phase for the industry is capital intensive. In the medium term, CIÉ's scale and geographic footprint may allow us play a role in helping the hydrogen sector get off the ground.
In 2019, Ireland saw two million visitors from North America pumping around 2 billion into the country. Why do you think traffic from the U.S. and Canada to Ireland has been so significant over the years, and what role has CIÉ Tours played in the increase?
There's always been a natural link and affinity between the U.S. and Ireland and, indeed, Canada and Ireland as well. That really goes back to the amount of emigration 100-200 years ago to the U.S. People see themselves as having generational links back to Ireland. Ireland as a holiday destination has a lot going for it in terms of the natural beauty of the countryside and our cultural offerings. I don't think there's ever been a tourist to Ireland that goes away disappointed. CIÉ Tours has been operating for almost 90 years. We are one of the largest generators of U.S. tourists into Ireland.
Typically, those tourists are either going around Ireland for a couple of weeks or potentially even extending into Scotland or elsewhere into Britain. A person on a CIÉ Tours package gets to see a huge amount of the country and potentially neighboring countries as part of the package. They aren't necessarily based solely in Dublin, rather in the regional centers around the country where tourism is a particularly important element of the economy. Therefore, we see CIÉ tours having a double bottom line, not only is it to be profitable for the group, but it's equally important that it delivers valuable business to the regional tourism sector.
Given the fall in tourism the world over, what plans does the company have to increase influx into Ireland once vaccines are rolled out?
For people to start holidaying in Ireland again, there's two or three things that need to happen. Firstly, people need to feel safe traveling, the vaccination rollout is clearly the big driver here and it's very positive to see that gain momentum. The vaccination rollout in both Britain and the U.S. has been going very well and that does suggest that, toward the end of this year, there will be demand from potential customers.
Secondly, it will be important that there are transport links available again. While a number of airlines have maintained services during the last months, other services have been suspended. We envisage that those links will recommence as soon as there is demand, that's an equally important step that will come over the coming months. Thirdly, we need to ensure that the attractions are open to tourists and the Irish government has indicated that it would be hopeful that, toward the end of this year, the vast majority of COVID restrictions will be lifted, thereby facilitating people traveling to Ireland on holiday. We would see 2022 as being potentially a very good year, in that there will be pent up demand. There's great value out there for customers looking to holiday.
No large company in the modern age can move forward without cooperation with outside parties, local or international. How is CIÉ Group working to intensify its international relationships and craft further global collaborations to sustain its success?
For our main business that operates abroad, CIÉ Tours, we work closely with various airlines, tourism boards and marketing boards around the world to ensure that Ireland remains an attractive destination and is marketed appropriately.
With regard to our core public-transport services and related technological advancements, we are heavily involved in various networks around Europe and beyond, to ensure that we are getting all of the insights and the latest research into areas such as zero-emission vehicles, hydrogen and the electrification of our railway network as we plan the next round of capital investment.
What are your plans for further promoting your brand internationally?
For our core public-transport business, we will simply be emphasizing the fact that it is the sustainable means to move around. Those using public transport are playing their part in achieving our climate goals. In terms of our property development, we will be emphasizing the sustainability of transport-oriented development and the quality of life that such developments can deliver, whether it be for residents, office users or visitors. For our tourism business, we will be emphasizing what Ireland simply offers, green open space, beautiful countryside and a very warm welcome, while also ensuring that people are aware that, post COVID, Ireland is open and, once again, welcoming visitors from all over the world.
What have been some of the major lessons you have learned from the COVID-19 crisis as CEO of CIÉ?
Last year has been exceptionally challenging. Thanks to the support of the Irish government, we've been able to stabilize the business and ensure that we are ready for the recovery and that we can do that on a sustainable basis. I truly believe that we can use this recovery period to ensure that the recovery generally for the country is a sustainable one. Given the scale of our operations, our core public-transport services as well as the ancillary services that we can provide, I believe we can play a central role in that sustainable recovery.
What would be your final message for our Newsweek readers?
I am very confident that the Irish economy will begin its COVID recovery from a firm foundation, and I think we have a huge opportunity to rebuild on a sustainable basis. I believe that CIÉ can play a central role here. Finally, I would say, for perhaps anybody considering a holiday of a lifetime in Ireland, go to cietours.com to make that dream come true.