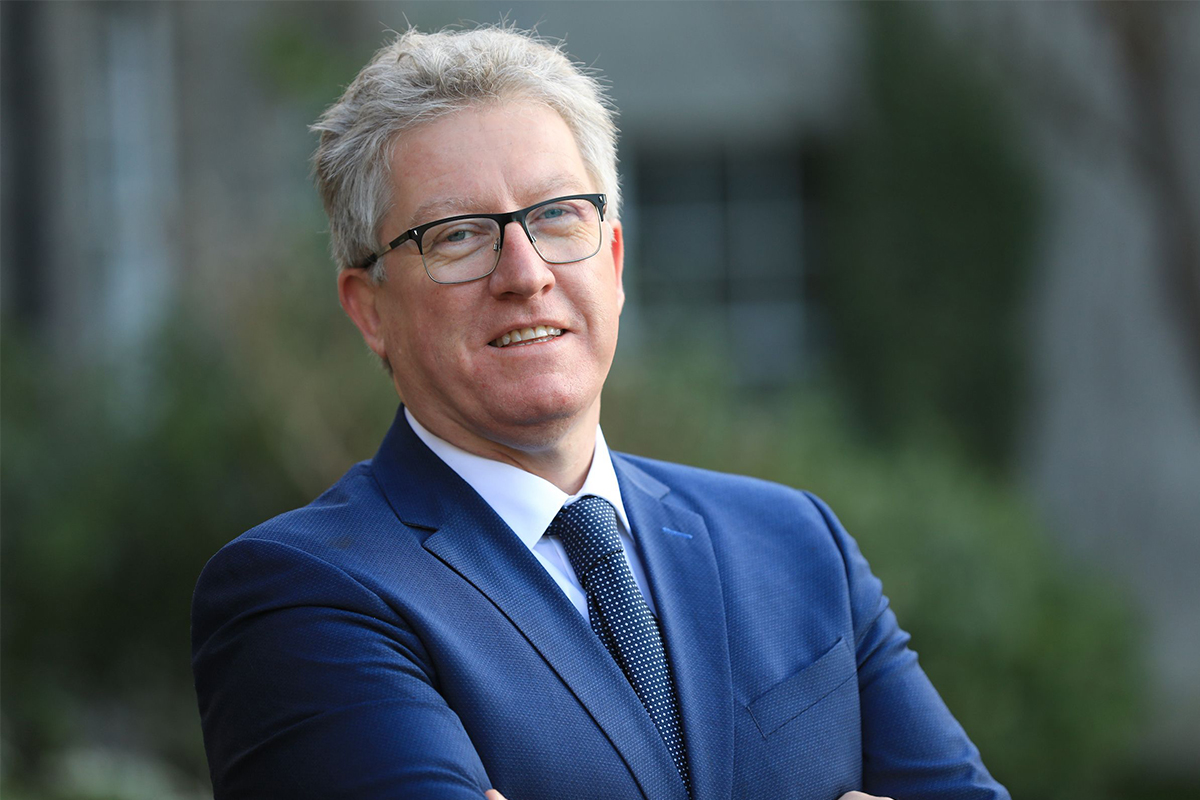 13 Jan

Ireland's university of enterprise collaborates with industry on Education 4.0
Professor Daire Keogh, President, Dublin City University, a globally connected university known for its research and educational impact, people focus and dedication to addressing the world's great challenges
Dublin City University (DCU) is widely regarded as one of the world's leading young universities and has a strong reputation for the quality of its education and research. As its president, how would you assess the performance and competitive advantages of Irish universities overall in a global context? Where do they excel and do they lag behind in any areas?
Education is hugely important to Ireland, a small nation where our greatest resource is our people. Indeed, from an historical perspective—as an island without natural resources or heavy industry—the education system has always had a focus on preparing students for employment. That emphasis has given Ireland's education system a competitive disposition, which we have turned to our advantage. Whether it was preparing students for emigration in the past, or to work in our thriving domestic economy more recently, Irish universities have prioritized the employability of our graduates.
Significantly, Irish universities have done that with an eye on the quality of our educational offering, both in the curriculum itself, but also in the wrap-around supports we offer students. So while we are not focused on the global university rankings, we are keen to figure in them and fortunate that we have continued to do so.
Ireland is, of course, an island, but we are not insular and our unique position within the European Union (EU) and as a stepping stone in the Atlantic gives us a particular advantage.
Ireland has some of the highest rates of participation in third-level education in Europe. This is wonderful, but it might be said that this has limited the numbers pursuing apprenticeships or other routes to employment, but this has been addressed in recent government policy. The recent creation of technological universities will also bring greater diversity to the sector, adding another channel in Ireland's rich talent pipeline.
Having a highly educated workforce is key to the strength of Ireland and the Irish economy. As a young institution, which took in its first students in 1980, DCU was established precisely to deliver applied education, relevant education, to educate our students for employment.
Could you give us an overview of the university and explain how it stands out within the Irish education system?
DCU was founded within the first wave of new universities in Ireland and admitted its first students in 1980. It was one of the bleakest decades in Irish economic history and unemployment stood at almost 20 percent. The creation of DCU represented an expression of hope, with the expectation that the new institution would deliver great value to the capital and its region. From the outset, DCU was innovative and promised an education that its first president described as "unashamedly applied, practical, hard headed and job oriented."
From the start, DCU was very much a place-based university, but it had a global outlook. Our programs were innovative and were designed to maximize employment opportunities. Our offerings were ambitious and, along with our research, were aligned with the needs of employers and industry in the region. Very quickly, DCU became defined as Ireland's university of enterprise. That connection between industry and academia gave DCU its character. Today, DCU ranks 19th in the global QS Graduate Employability Rankings, but our graduates are not just employable—they are promotable.
DCU has very close relations with industry. Our programs are constantly evolving and we have just launched a new DCU Futures program, under the government of Ireland's ambitious Human Capital Initiative that is designed to nurture the country's talent pipeline. DCU Futures will transform the learning experience of undergraduate students. This program—co-creating Education 4.0 with industry partners at DCU—will entail reconceptualizing learning opportunities, creating authentic connections between the classroom and enterprise, and embedding the digital literacies, disciplinary competencies and transversal skills required to future proof graduates.
Uniquely among Irish universities, DCU hosts a full faculty of education. The recently established DCU Institute of Education represents the largest body of expertise in education in Ireland. The institute delivers programs in education and training, early childhood education and teacher education, providing graduates with the knowledge, understanding and skills needed to excel in a variety of educational contexts, such as preschools, schools, vocational, adult and community settings. The institute is home to internationally recognized experts in teaching and learning who work closely with students in an innovative environment for 21st-century learning. Not surprisingly, the institute has close ties with industry and enterprises, and it also anticipates the skills needed by society through its programs in modern languages, engineering and design. Among its novel offerings is the DCU STEM Intern Program (StINT) that places student teachers in industry settings as part of their teacher education program.
DCU's strategic plan for 2017-2022 is very much focused on talent, discovery and transformation. Could you disclose some of the main elements and goals of this plan?
We have recalibrated our strategic plan in the context of COVID-19 and the global crisis. We remain focused on "Talent, Discovery and Transformation," which we deliver through the filters of people first, focus and impact.
DCU began as a startup and, although it is now a mature Irish institution, we strive to retain that startup character. It has an unequalled multidisciplinary and entrepreneurial mindset, and the challenge for us is to constantly harness the combined resources of our five faculties to expand our exceptional learning environment. By combining our traditional strengths in science, technology, engineering and math (STEM), our thriving Business School, our Institute of Education and our Faculty of Humanities and Social Sciences, DCU will champion and release the multidisciplinary potential of the STEAM agenda: STEM plus the arts. By offering our students a combination of high tech, high impact, human touch programs, DCU will burnish its reputation for experiential learning and innovation to deliver a quality education.
The research and innovation landscape is shifting constantly and at pace. DCU, like all successful universities, embraces its multidimensional partnerships with government, business and civil society to deliver real impact. DCU is well positioned to address the challenges of the future because we have the core identity, character and capacity to do just that. When we prioritize people first and impact, we're looking at the quality of the student experience, but also the ability of the university to attract the best faculty. That "people first" agenda is reflected in our research and enterprise engagement too.
DCU is the antithesis of an ivory tower: we are tuned in to the needs of people, the economy and society. Those priorities are also reflected in our alignment of our activities and research with the United Nations (UN) Sustainable Development Goals, which reflect our mission to "Transform Lives and Society."
On the topic of sustainability, what would be some of the major research innovations or breakthrough initiatives that the university has spearheaded recently?
Our strategic plan committed DCU to place sustainability at the core of the university. The COVID-19 pandemic, of course, has exposed the fragility of humanity and brought home to us an awareness of the urgency of the threat posed by the climate crisis to our planet. In that context, it is imperative that a focus on sustainability will underpin all of our activities, and our decisions will be made and judged against sustainability metrics.
Across all of our activities, we have placed an emphasis on sustainability. Our campus development plans reflect this. New construction is completed to the highest standards and we have invested heavily in retro-fitting our campus. We are particularly proud of a conservation project on our historic All Hallows Campus, where drilling for geothermal sources has yielded a flow of just over 4 liters per second at a temperature of 13° C. This has the potential to generate up to 300kW of free carbon neutral heat.
We promote and support sustainability research across the university. A good example can be seen in the DCU Water Institute, which is a cross-faculty initiative of research and education on water. It aims to work with all stakeholders—a cross section of academia, industry, agency and society—in its research and development work. Through research and capacity building, the institute develops solutions to national and global problems in water. That interdisciplinarity and engagement is a hallmark of DCU's approach, and colleagues have recently published Ireland and The Climate Crisis (Palgrave, 2020), which is unique for its engagement with the topic in Ireland from the perspective of humanities and social sciences.
From issues like global inequality to a worldwide pandemic, climate change or technological transformation, there is an increasing need for DCU graduates with future-focused skills. Our curriculum renewal also reflects our focus on sustainable futures: our offerings in the "DCU Futures" suite includes, for instance, a BSc in Global Challenges that is for those who want to challenge themselves to take on the world's problems. This unique course integrates social science and technology studies through challenge-based learning in a program offered by colleagues in the Faculties of Engineering and Computing, and Humanities and Social Sciences.
The COVID-19 crisis has been a major global disruptor. How has DCU experienced the crisis and how has the university contributed to the worldwide COVID response?
From the outset of the COVID crisis, DCU—with its "people first" philosophy—prioritized the safety of our students and staff, and set about offering the very best university experience possible within the parameters of health guidelines. Fortunately, we have effective emergency response structures within DCU, which are informed by the research expertise in emergency management at our Business School, and these swung into action. From the outset, DCU maximized transparency and communication, which provided clarity and supported planning to reduce disruption.
Crises are often regarded as a disruption or exceptional, but at DCU, rather than seeing COVID as a diversion from our strategic plan, we saw the crisis as an opportunity to demonstrate our values and ambition. At DCU we have exceptional people and excellent values, and we used these to navigate the "COVID fog." Indeed, in many ways the crisis provided us with an opportunity to accelerate our strategic ambitions, particularly in the development of our digital resources and capacity as we moved rapidly online.
DCU is host to Ireland's National Institute of Digital Learning. We also have a very strong record in digital learning and innovation going back over 25 years. That gave us an advantage as we moved to remote teaching and it provided a strong foundation upon which to build, as we invested in people and infrastructure to meet student demand. Beyond the university, we offered a massive open online course on the FutureLearn platform, which was available without cost to students globally to support their online learning in the crisis. We have followed this with a program for education—Higher Education 4.0: Certifying Your Future—that explores what the future holds for higher education, new educational models and pathways for 21st-century learners.
Very quickly, too, we established a COVID Research hub at DCU as a rapid-response research initiative, placing collaboration at both national and international level at the heart of what we do and bringing DCU's interdisciplinary research capabilities together to make a strong and positive contribution by providing solutions to the many challenges we are now facing. The projects funded are focused not just on testing but also on frontline workers, children, vulnerable groups, students and businesses within our society. Throughout the crisis, we have supported the frontline effort, including by converting our award winning Helix Theatre into a mass vaccination center that will drive the state's program in our region.
How it performs in a crisis is the ultimate test of an organization's mission, values and strategy. People at DCU are justifiably proud of the response of the university.
In its position as an enterprise university, DCU cooperates closely with local businesses as well as multinational companies in Ireland and beyond. To what extent do you contribute to enhancing entrepreneurship and startup development in the country?
At DCU, we embed innovation right across our programs and provide strong opportunities for student engagement with enterprise. DCU has maintained a vibrant culture of entrepreneurship and innovation from its foundation. As Ireland's university of enterprise, DCU is renowned for its proactive engagement with the enterprise sector.
In March 2021, over 600 first-year DCU undergraduate students will participate in an online "Hack4Change" event supported by over 90 experts from industry over a week to come up with innovative solutions to the challenges of climate, equality, mental health and wellbeing. Such large-scale events would not be possible without significant support from our links with engaging and inspiring people from the enterprise community in Ireland.
For years, DCU has partnered with government agencies across the island of Ireland—Enterprise Ireland and Invest Northern Ireland—to deliver strategy programs for scaling small- and medium-sized enterprise (SME) leadership teams to help them with their growth ambitions. We have also co-designed new postgraduate programs with industry: such as our MSc Insights and Innovation with Bord Bia, the Irish Food Board, which is helping to cultivate a new cohort of talent to feed into Ireland's world-class food and drink industries.
Our commitment to innovation has many forms. The DCU LEGO Education Innovation Studio is a fun, flexible and engaging learning environment, which serves as an interactive learning hub that will help DCU student teachers and Irish schools develop innovative and creative approaches to teaching STEM subjects in the classroom. The establishment in 2016 of Ireland's first Fraunhofer Project Centre is an endorsement of the quality of our engagement in that regard. DCU consistently leads the Irish university sector in terms of intellectual property licenses and contributes strongly to the national innovation ecosystem through DCU Invent, our commercialization and industry interface unit.
The flagship of our endeavors is the DCU ALPHA campus, which is a commercial innovation facility that promotes the growth of research-intensive businesses that are creating the technologies and services of tomorrow. Opened in 2014, DCU ALPHA has quickly attracted a community of 35 like-minded innovative companies, employing 350 staff in the development of groundbreaking products in connected health, clean energy and Internet of Things (IoT) technology. Here, indigenous SMEs and startups innovate alongside multinationals like Fujitsu, Siemens and Veolia in a collaborative hub, in partnership with university-based researchers. For innovative companies that are looking to scale and leverage DCU's research, graduate talent and commercial network, this is an ideal location.
Dublin is a city at the forefront of the digital revolution and is ideally positioned to become a global IoT capital. DCU ALPHA provides optimum conditions for firms involved in bridging the physical and digital worlds.
About 20 percent of your students are currently from abroad. How important are international students and talent to the university, and do you have any plans to further internationalize DCU?
From its foundation, DCU has been a place-based university with a global perspective and a global awareness. Ireland is an island, but we're not insular and we are open. We are also one of the most open economies in the world. Additionally, in post-Brexit Europe, Ireland has a particular advantage as an English-speaking member of the EU. That places us uniquely and, as a bridge between the U.S. and Europe, DCU is an attractive and welcoming environment for international students.
DCU's ambition is to be a connected institution, a place-based university connected globally and dedicated to addressing the great challenges with our partners. We have prioritized a number of strategic relationships, including ones with Arizona State University (ASU) in the U.S. and our membership of the European Consortium of Innovative Universities (ECIU). DCU has had a longstanding relationship with ASU and, in the context of our "Transatlantic Higher Education Partnership," the two universities have recently established Biodesign Institute Europe at DCU to develop collaborative applied research programs that take advantage of the institutions' complementary strengths across the key research areas of healthcare technology, sustainable manufacturing, biotechnology, bioanalytical systems and sustainability for health. Crucially, Biodesign Europe works closely with the Biodesign Institute at ASU to help translate scientific discoveries into the market, where they can benefit society as a whole.
Similarly, DCU is committed to the ambitious "European University" project, which is one of the flagship initiatives of the EU's ambitions to build a European Education Area. This new concept involves a network of universities forming a shared legal entity—for DCU, it is the ECIU University—that will enable learners to obtain qualifications by combining studies in several EU countries. The ECIU University will act as a transnational alliance of interdisciplinary teams of students, academics and external partners addressing key issues which Europe faces. The ECIU University is focused primarily on life-long learning and will develop a system of micro-credentials to address real-life challenges. The first three-year phase of the ECIU University is focused on the UN Sustainable Development Goal 11—sustainable cities and communities—and the programs will be based on a challenge-based learning approach that mirrors the campus-based curriculum at DCU.
In terms of the importance of European collaboration, one member of the EU has left the bloc this year as a result of Brexit. What do you think the impact of Brexit will be on Irish higher education and how has DCU prepared for it?
DCU is very much a European university; our strategy reflects that identity as does the increasingly international profile of our faculty and academic focus. In 2017, we established the DCU Brexit Institute—the first institute dedicated to the study of Brexit in Europe—to investigate the effects of Britain's departure from the EU and, in particular, its effect on the renewal of Europe in the EU-27 and on the process of European integration. It offers an innovative, high-level platform to analyze and influence the major legal, political and economic challenges raised by Brexit and the connected discussions on the future of Europe at 27 rather than 28 nations. In DCU fashion, it brings together policy makers, scholars, business leaders and civil society to promote public debate and raise awareness about the most momentous events of our time.
As the Irish university of enterprise, DCU also plays a prominent role in chambers of commerce, including the Irish American Chamber of Commerce. We have been particularly active within the British-Irish Chamber of Commerce, where DCU was the founding member of the Chamber's Higher Education and Research Committee. This has been an invaluable forum, bringing the universities on both islands together with industry partners, stakeholders, governments and funders to maximize the opportunities for continued growth in research and innovation. Britain is, in Boris Johnson's phrase, "A superpower in science," and the UK's continued participation in the Horizon Europe €95-billion research program makes collaboration between Irish and U.K. universities more important than ever. Critically, in an Irish context, it is vital that we nurture relationships between institutions in the Republic of Ireland and universities in Northern Ireland in order to maximize possibilities in research, innovation and economic development.
You have just entered a 10-year term as president of DCU. That's quite a long tenure that leaves you plenty of time to accomplish a lot. How would you summarize your vision and aspirations for the university?
I would like to extend DCU's reputation as Ireland's university of enterprise and impact and for DCU to be known for its quality student experience, its research impact, its people focus and its positive impact on Irish life.
DCU has established a very strong reputation in a short period, but adaptation and change are the essential attributes of flourishing institutions. In my mind, for DCU this means retaining the agility of a young university; remaining in perpetual startup mode, purposefully different, focused and consistently excellent.
Do you have a final message for the readers of Newsweek?
Too often people focus on the "what" of education, and overlook the "why". The philosophy of education is important to a dynamic university like DCU. Nothing is more important to the welfare of a nation than the education of its people—and at DCU, we aim to provide the very best.